Even now, many people find it difficult to trust attorneys. But what if that lawyer also claims to have participated in a covert government time travel program as a child?Since 2004, Seattle attorney Andrew Basiago has made public claims that between the ages of 7 and 12, while working for the Defense Advanced Research Projects Agency, he was a participant in "Project Pegasus," a covert U.S. government program that he claims investigated teleportation and time travel.
Basiago told The Huffington Post, "They taught youngsters together with adults so they could assess the emotional and physical repercussions of time travel on kids. In terms of adjusting to the stresses of travelling between the past, present, and future, children outperformed adults.Skeptical? It's not just you. According to a study published last year by Hong Kong physicist Shengwang Du, nothing can move faster than the speed of light, according to an article in the Los Angeles Times.
Nevertheless, Alfred Webre, a lawyer who focuses on "exopolitics," or the political ramifications of an alien presence on Earth, supports Basiago's assertion. Teleportation and time travel, according to Webre, have been around for 40 years, but the Defense Department hoards them rather than using them to transport products and services across great distances.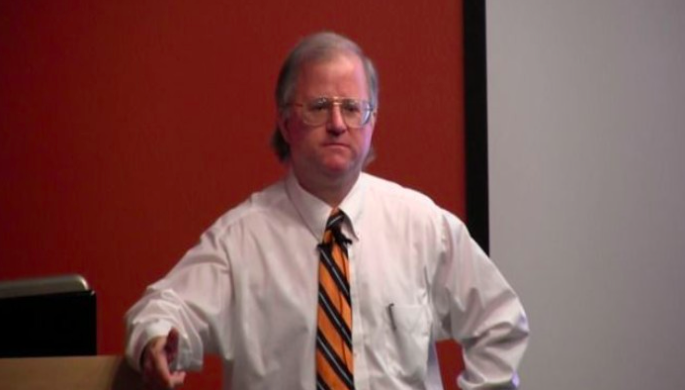 According to Webre, it's a cheap and ecologically benign kind of transportation. It has been in the possession of the Defense Department for 40 years, and [former Defense Secretary Donald] Rumsfeld used it to take soldiers to war.
Basiago said he experienced eight different time travel technologies during his stint in the program. Mostly, he said, his travel involved a teleporter based on technical papers supposedly found in pioneering mechanical engineer Nikola Tesla's New York City apartment after his death in January 1943.
"The machine consisted of two gray elliptical booms about eight feet tall, separated by about 10 feet, between which a shimmering curtain of what Tesla called 'radiant energy' was broadcast," Basiago said. "Radiant energy is a form of energy that Tesla discovered that is latent and pervasive in the universe and has among its properties the capacity to bend time-space."
Basiago said project participants would jump through this field of radiant energy into a vortal tunnel and "when the tunnel closed, we found ourselves at our destination."
Basiago claimed he can be seen in a photograph of Abraham Lincoln at Gettysburg in 1863, which he said he visited in 1972 via a plasma confinement chamber located in East Hanover, N.J.
Basiago said that throughout his tenure in the program, he used eight distinct time travel devices. He said that most of his travels included a teleporter constructed from blueprints purportedly discovered in the late inventor and mechanical engineer Nikola Tesla's New York City residence following his passing in January 1943.
A dazzling curtain of what Tesla dubbed "radiant energy" was disseminated between two gray elliptical booms that were about eight feet tall and roughly 10 feet apart, according to Basiago. Tesla discovered a type of energy called radiant energy, which is latent and present throughout the cosmos and has the ability to bend time and space as one of its characteristics.
According to Basiago, project participants would leap through this radiant energy field and into a vortex tunnel, whereupon they would arrive at their destination "when the tunnel closed."
The cosmos seemed to be wrapping itself around the observer, giving the impression that they were either moving very quickly or not at all, according to Basiago.
Basiago asserted that he may be seen in an image of Abraham Lincoln taken at Gettysburg in 1863, which he claimed to have seen in 1972 while traveling through an East Hanover, New Jersey plasma confinement chamber.
He claimed, "I had been costumed in historical garb, as a Union bugle boy. I left the area around the dais and moved approximately 100 paces over to where I was depicted in the Josephine Cogg photograph of Lincoln at Gettysburg since I attracted so much attention while wearing oversized men's street shoes during the Lincoln address location at Gettysburg. (In the image below, the youngster to the left).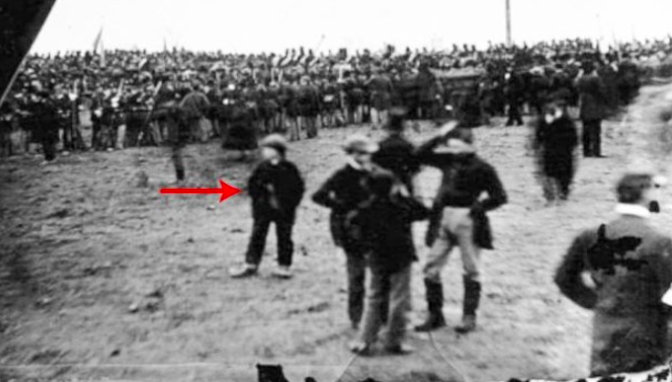 Basiago said that he made five or six trips to Ford's Theatre on the night of Lincoln's murder. However, he said, "I did not see the assassination." "When he was shot once, I was on the theater level and heard the gunfire followed by a loud uproar from the audience. The sound was awful to hear."
Basiago said that each time he traveled through time, "like they were transporting us to nearby parallel timelines in slightly different alternate universes. As these visits multiplied, I encountered myself on two separate occasions."
It was possible for two of him to be at Ford's Theatre in 1865 at the same time since he was transported back in time from distinct starting places in the present to the same place and time.
I was worried that my cover would be exposed after the first of these two interactions with myself, he recounted. "I didn't have any explanation materials when I was dispatched to Ford's Theatre, unlike the leap to Gettysburg, where I was carrying a letter to Navy Secretary Gideon Welles to give me aid and support in the case I was detained."
And how did these supposedly time-traveling individuals get back to the present or their starting point? Basiago said that some kind of holographic technology had made it possible for them to travel both virtually and physically.
He said that if we remained in the hologram for only 15 minutes or less, it would collapse, and after 60 seconds of standing in a field of super-charged particles, we would return to the stage and be in the present.
Time travel should not be possible with the technology, according to Basiago, since "it would be anarchy."
In a recent lecture, Basiago and Webre discussed the necessity to declassify, implement, and reveal the technology as well as the public policy choices that would be required to employ it. The conference was conducted in Vancouver, British Columbia.
One person, Webre, stated that he wanted teleports set up in all major cities so that goods and people might be transferred via the time-space continuum. According to Webre, this would free up a significant amount of urban territory that is presently occupied by railroad yards or airports.
Undoubtedly, there are dangers. Basiago recalled traveling via the vortal time tunnel with intense turbulence. In one early-days catastrophe, according to Webre, a youngster in Project Pegasus came just a few seconds before his legs.
The only thing left of his legs were stumps, and he was moaning in agony, according to Webre.
According to Webre, issues like those have subsequently been resolved. To avoid being used "for political control, economic control, or unlawful monitoring," he added teleportation requires tight legal regulations.
If true, all of this is intriguing information. But specialists, such as retired army colonel John Alexander, who served as the U.S. Army Laboratory Command's head of the Advanced System Concepts Office, are, to put it gently, dubious.
The Huffington Post quoted Alexander as saying, "If this could be done, if anyone could go even one second into the future, we'd dominate the planet." On Wall Street, there are computer programs that are hundreds of microseconds quicker and offer a significant edge.
Basiago said that Project Pegasus employed up to 100 workers. Alexander said that he questioned how many individuals could maintain secrecy for even 40 minutes, let alone 40 years.
According to the Washingtonian, "UFOs: Myths, Conspiracies, and Realities" author Alexander, if two individuals are aware of anything, it is not a secret. How did we miss the presence of WMD in Iraq or the overthrow of the Iranian Shah if the Department of Defense employed this?
Basiago claimed that the paradoxes of the time-space continuum might explain Alexander's rhetorical queries.
He explained that his knowledge of time travel technology was limited to his work with Project Pegasus, therefore this was only conjecture. But it's plausible that "advance information" indicated Saddam Hussein was preparing to deploy WMDs, but our troops intervened and overthrew him instead.